In 1945 Congress dedicated October to advancing the inclusion of people with disabilities in the workplace. This history declaration has enabled many innovations in the workplace such as easy access doors, ramps, and more.
Beyond the ability to access a workplace, employers have embraced people with disabilities in the workplace. Many hospitals, grocery stores, warehouses have found people with autism and other spectrum disorders make great employees. They are diligent in their tasks and repetitive tasks are easily done and enjoyed by these disabled employees.
We see an opportunity to become a more inclusive economy. I am heartened by
Boeing's
Diversity Efforts,
Microsoft's
outreach, and other companies to create a diverse workforce. Perhaps there is a role in your company that can be filled by a disabled person? There are many organizations to help you place the right person. Twitter is filled with valuable links to such non-profits. One such organization is Disability Rights PA, I recently met
George Barron
at an OCF luncheon and love his drive and vision. Perhaps we can all help give these creative people a job worth working!
https://www.dol.gov/odep/topics/ndeam/YearRound.htm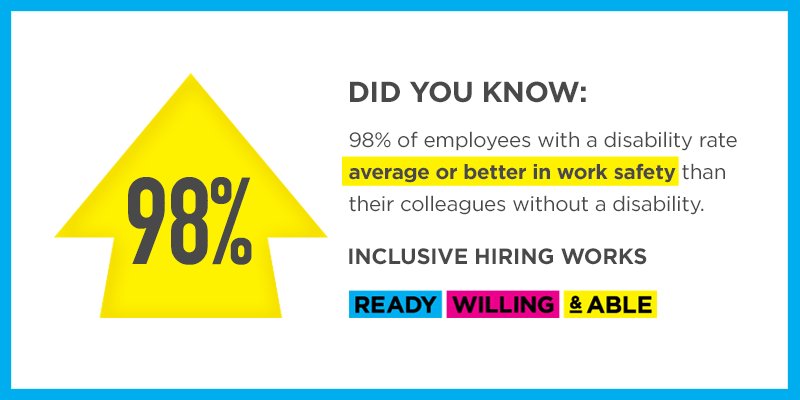 Ready Willing and Able is a national partnership working together to build a more inclusive workplace.
As we sell into new companies and areas
, I hope these companies can embrace hiring a person with a disability. Inclusion is the way to grow!
Linda Richardson
Power Tool and Supply